Reinforced Rubber and Rubber Coated Fabric
Reinforced Rubber and Rubber Coated Fabric
With 50 years experience, Goodyear Rubber Co of So Ca is a best-in-breed, Customer Service-Oriented supplier of quality custom reinforced rubber and rubber coated fabric parts. We are an ISO 9001:2008 registered manufacturer and use the most advanced technology available, including water jet cutting and flash cutting, to fabricate both prototypes and production runs.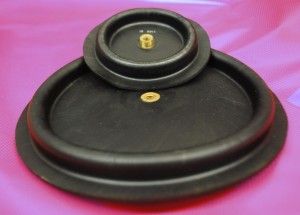 FABRIC-REINFORCED RUBBER PRODUCTS
Nylon

light weight
great physical properties: high tensile strength, high elongation, excellent abrasion resistance
Highly resilient (nylon fabrics are heat-set)
High resistance to insects, fungi, animals, as well as molds, mildew, rot and many chemicals
Melts instead of burning
durability and resistance to damage: seatbelts, tire cord, ballistic cloth
Developed in the 1930's as an alternative to silk
available in a variety of colors and lusters (lustrous, semi-lustrous and dull)
Transparent to infrared light (−12dB)
Polyester

resilient
hydrophobic in nature and quick drying
resistant to mildew and biological damage
easy to wash
retains its shape and hence is good for making outdoor clothing
very durable: resistant to most chemicals, stretching and shrinking, wrinkle resistant
abrasion resistant
RFQ – Contact us today!!!
Goodyear Rubber offers reinforced sheet rubber in several popular combinations of fabric and compounds. Custom compounding and fabrication of reinforced sheet products can be specified to match unique application requirements.
Fabric reinforced rubber presents good dimensional stability under high compression loads. To compare the advantages and limitations of each polymer, see respective polymer sections.