Rubber Molding
Ask us
about fast
Cast Polyurethane Prototyping
. Little or no tooling costs!!! Articles delivered within two weeks.
Contact us today.
Rubber Molding Quality Products in Southern California since 1961.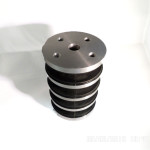 Goodyear molded products can be found in or on anything that moves or flexes. We manufacture highly engineered components that facilitate elasticity. We serve a variety of global markets to increase productivity and profitability of our customers. Our focus is on solving engineering challenges which also ignites our passion to innovate. This technological expertise ensures our future growth while creating a more sustainable future for us all.
Compression, Transfer and Injection Molding
At Goodyear Rubber, our mission is to exceed your expectations. Through continuous improvement in lean manufacturing principles, we strive towards adding exceptional value for our customers. We focus on consistent, timely deliveries of superior products. Our team is always ready to serve.
Unmatched Customer Service.
Capacity. Over 75 presses running 24 hrs a day. All year long.
Highly Specialized and Engineered Elastomer Components
Contact Us Today
Platens ranging from 10″ to 48″ square to 15 ft long
World Class Design and Production.
Injection presses from 100-500 tons
Barwell, Extrusion, Calender, and Stamp Pre-forming
Complete insert pre-prep department for rubber to metal bonding. Read more…
Cryogenic Deflashing Services
We carry a full line of progressive cavity stator tubes for spray and texture machines and rigs. We can customize a compound for your specific need!!! See More…
Adding value via efficiently engineered process and material design. That is Goodyear Rubber Molding.
Turn Key Elastomeric Solutions for Aerospace and Defense.
Clamps, connectors, seals, diaphragms, fabric-reinforced, a wide variety of materials & specifications, full design capability. Read More…
Molding products we manufacture include:
Custom Molded Products for your Industry Applications
Over Molding-Different Polymers, Elastomers, Color Products
Products for FDA compliance and Medical Applications
---
View Rubber Molding Gallery