Being an ISO 9001 Rubber Manufacturer is not just about making products and shipping them out as fast as possible. Producing durable products is about time management and being detail oriented. Any Rubber Manufacturer will make defects. The superb rubber manufacturer though, consistently eliminates major non-conformances via rigorous process control; statistical and 100%.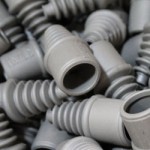 Goodyear Rubber Company of Southern California is dedicated to the manufacturing of high quality custom rubber products in a safe and clean environment with a sustained growth and productivity. This mission helps guide us in formulating the best materials that make up our reliable products. We emphasize the importance to detail to all of our employees and make sure our vendors and customers know how serious we are about being precise. With the use of microscopes and other high tech tools, our inspection team works diligently to ensure our products are in pristine condition before our audiences receive them.
Make sure to stay connected with Goodyear Rubber Company of Southern California to see how we can serve you.